Reiki Treatments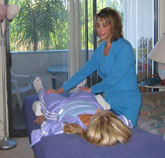 Reiki is an ancient healing art for stress reduction and relaxation. Reiki is a form of Divine healing love, which is rapidly being shared around the world and uniting people from all religions and cultures in joy, peace and harmony.
We all have energy flowing in our body and the way to get to it is through Reiki – now becoming the fastest- growing therapy in the West.
The benefits are clear. The body heals itself from the inside physically, mentally and emotionally. That is why Reiki is most used for stressed people and for those who have great responsibility at home and at work. It is also used on a monthly basis for sports practitioners in order to replenish energy. Many people with serious illnesses use it in additional to traditional western medical therapies.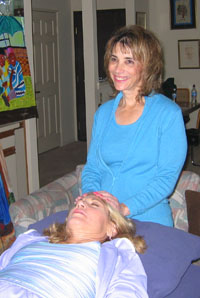 During the session, you will be very relaxed, but once up and ready to go you will feel wide-awake and very strong again. During the session which lasts anywhere from 15 minutes to one and a half hours, you will remain fully clothed. The Reiki sessions will work wonders on you and the best is to try it at least three times and find out for yourself how much of an improvement you will find in how you feel and your everyday life. If you want to continue to have regular sessions They can be scheduled weekly or monthly depending on your needs.
Please contact me for information regarding your treatment.
Treatments in Encino and Surrounding San Fernando Valley and Los Angeles, California areas